Certified Anti-Money Laundering Specialist CAMS real exam questions have been updated, which are the best preparation material for you to prepare the test. Certified Anti-Money Laundering Specialist CAMS credential is the gold standard in AML certifications and recognized internationally by financial institutions, governments and regulators as a serious commitment to protecting the financial system against money laundering. The following CAMS information, blueprint and real exam questions are helpful in your preparation.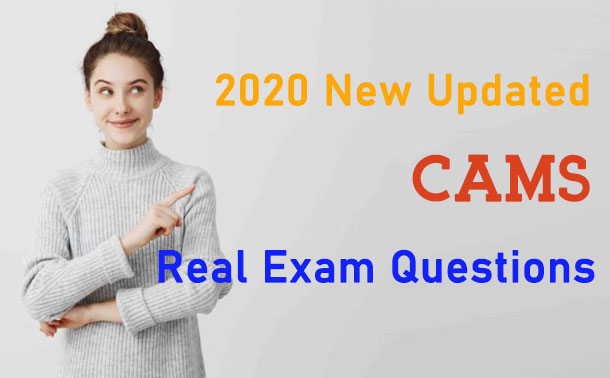 Read CAMS Exam Information
There are 120 multiple choice and multiple selection questions in real Certified Anti-Money Laundering Specialist CAMS exam. You have 3.5 hours to complete the test. The passing score required to obtain the CAMS certification is 75. You can register CAMS exam at Pearson VUE test center.
Study CAMS Exam Blueprint
The CAMS examination consists of four domains.
I. RISKS AND METHODS OF MONEY LAUNDERING AND TERRORISM FINANCING 26%
II. COMPLIANCE STANDARDS FOR ANTI-MONEY LAUNDERING (AML) AND COMBATING THE FINANCING OF TERRORISM (CFT) 25%
III. AML, CFT AND SANCTIONS COMPLIANCE PROGRAMS 28%
IV. CONDUCTING AND SUPPORTING THE INVESTIGATION PROCESS 21%
Share CAMS Real Exam Questions
CAMS real exam questions updated version can help you test the above blueprints. Share some CAMS real exam questions below.
1.What does the Financial Action Task Force 40 Recommendations address on transparency of beneficial ownership?
A. Gatekeepers
B. Correspondent banking
C. Payable through accounts
D. Legal persons and arrangements
Answer: D
2.A compliance officer identifies a potentially significant risk in a popular financial product. Further investigation reveals there is no mitigating control.Which course of action should the compliance officer take?
A. Launch a long-term project to remediate the control deficiency
B. Note the risk and address it during the next round of policy and procedure review
C. Immediately cease providing the product and only offer it after effective permanent mitigation is implemented
D. Implement a temporary mitigation that enables effective management of the risk until a permanent plan can be developed
Answer: D
3.Which factor should a bank consider before sharing information about a customer with its broker-dealer affiliate in the case of an investigation?
A. Whether the broker-dealer affiliate can rely on the due diligence done by the bank
B. Whether there is a mutual legal assistance treaty in place between the two institutions
C. Whether privacy and data protection rules permit the bank to share the information with the affiliate
D. Whether both institutions have an account or are in the process of opening an account for the customer
Answer: B
With CAMS real exam questions full version, you can pass the test with much confidence.