Recently, Microsoft has released many new exams, and some other hot exams will be retired soon. In this article, I will show you that which exams will be retired on March 31, 2019. They are the following 5 Microsoft exams.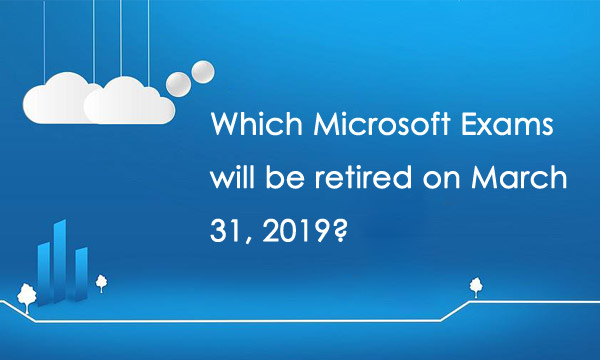 70-346: Managing Office 365 Identities and Requirements
70-347: Enabling Office 365 Services
70-695: Deploying Windows Desktops and Enterprise Applications
70-697: Configuring Windows Devices
70-698: Installing and Configuring Windows 10
I collect the above information from Microsoft official website. If you want to check them with the official information, you can visit the following link.
https://www.microsoft.com/en-us/learning/retired-certification-exams.aspx
Besides, the related certifications: MCSE Mobility, MCSA Office 365 and MCSA Windows 10 will also be retired on March 31, 2019. If want to earn these certifications, please take them before the retired date.
As we all know, Microsoft Certification is a complete technical pyramid certificate system established by Microsoft to promote Microsoft technology and cultivate system network management and application development talents. It is recognized and validated in more than 90 countries around the world, and can be used as a valid proof of salary position changes. So, earn Microsoft hot certifications, you can get high salary.
To pass the above Microsoft certification exams successfully and quickly, our Microsoft 70-346, 70-347, 70-695, 70-697 and 70-698 real exam questions are your big helper.