We all know that 220-1001 core 1 and 220-1002 core 2 are required tests for CompTIA A+ certification. We have updated the latest CompTIA A+ certification questions for you to prepare the two exams well. CompTIA A+ certified professionals are proven problem solvers. They support today's core technologies from security to cloud to data management and more. The related CompTIA A+ 220-1001 and 220-1002 exam information is helpful in the preparation.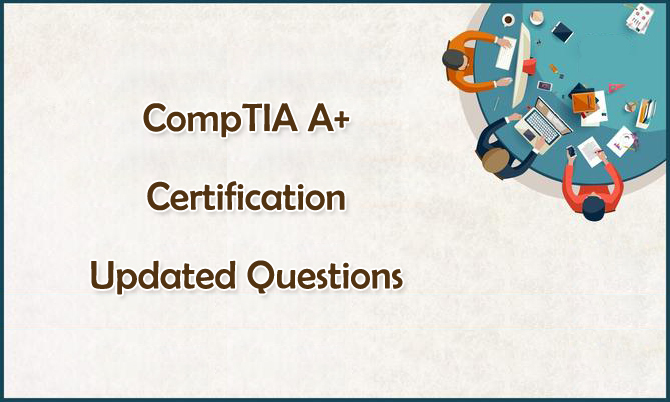 CompTIA A+ 220-1001 and 220-1002 New Content
CompTIA A+ Core 1 220-1001 and Core 2 220-1002 exams cover the following new content.
Demonstrate baseline security skills for IT support professionals
Configure device operating systems, including Windows, Mac, Linux, Chrome OS, Android and iOS and administer client-based as well as cloud-based (SaaS) software
Troubleshoot and problem solve core service and support challenges while applying best practices for documentation, change management, and scripting
Support basic IT infrastructure and networking
Configure and support PC, mobile and IoT device hardware
Implement basic data backup and recovery methods and apply data storage and management best practices
CompTIA A+ Related Jobs
If you are doing the following jobs, you can choose to earn CompTIA A+ certification to improve your career.
Service Desk Analyst
Data Support Technician
Help Desk Tech
Desktop Support Administrator
Technical Support Specialist
End User Computing Technician
Field Service Technician
Help Desk Technician
Associate Network Engineer
System Support Specialist
CompTIA A+ Certification Updated Questions
We have updated our CompTIA A+ 220-1001 Core 1 and 220-1002 Core 2 exams questions, which are helpful in the preparation.
Core 1 220-1001: V12.02 with 235 Q&As
Core 2 220-1002: V12.02 with 262 Q&As
The new updated CompTIA A+ real exam questions are the latest and valid, which can guarantee you pass. If you want to check the sample questions of CompTIA A+ 220-1001 and 220-1002 exams, please contact us via
[email protected]