We all know that JN0-1332 exam is the new replacement test is JN0-1331. We just cracked the latest Juniper JNCDS-SEC JN0-1332 real exam questions, which are the best preparation material for you to clear the test easily. Juniper JNCDS-SEC certification is designed for networking professionals and designers with an intermediate knowledge of network security, theory, and best practices. Juniper certification JN0-1332 written exam verifies your understanding of designing secure networks.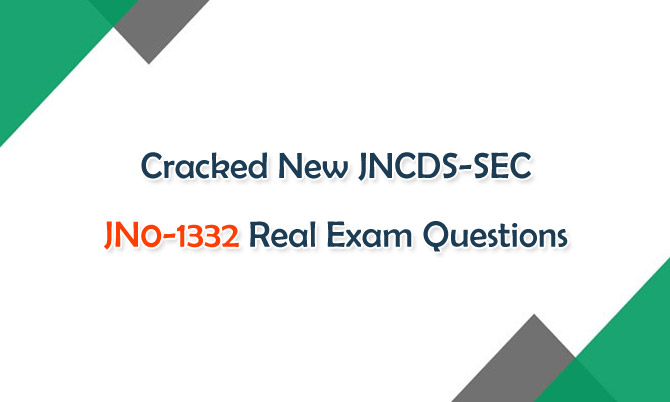 Juniper JN0-1332 Exam
JN0-1332 exam is a required test of Juniper JNCDS-SEC certification. Study the basic Juniper JN0-1332 exam information is helpful for you to prepare for the test.
Number of questions: 65 multiple choice
Duration: 90 minutes
Price: $300
Test center: Pearson VUE
JNCDS-SEC JN0-1332 Exam Objectives
Juniper JNCDS-SEC JN0-1332 exam objectives cover the following details.
Fundamental Security Concepts
Advanced Security Concepts
Securing the Campus and Branch
Securing the Enterprise WAN
Securing the Service Provider WAN
Securing the Data Center
Security Automation and Management
Security Virtualization
High Availability
Share Juniper JN0-1332 Real Exam Questions
Juniper certification JN0-1332 real exam questions can help you test all the above Security Design Specialist (JNCDS-SEC) JN0-1332 exam objectives. Share some Juniper JNCDS-SEC JN0-1332 real exam questions and answers below.
1.You must implement a security solution that uses a central database to authenticate devices without EAP-M05 based on their network interface address. Which solution will accomplish this task'?
A. 802.1X multiple
B. 802.1X single secure
C. static MAC bypass
D. MAC RADIUS
Answer: B
2.When using Contra! networking, security policies are distributed as access control list to which component?
A. vMX
B. vRouter
C. vSRX
D. vSwith
Answer: B
3.When designing security for the service provider WAN. you are asked to implement unicast reverse path forwarding (uRPF) in this scenario. on which interfaces would you choose to implement loose mode uRPF?
A. On interfaces where all data originates on the same network as that of the router interface
B. On interfaces that participate in multihomes environments
C. On interfaces that are user access interfaces
D. On interfaces where the best forwarding path fee routes is through the receiving interface
Answer: C
4.Multiple customers use the shared infrastructure of your data center. These customers require isolation for compliance and security reasons. What would you do to satisfy this requirement?
A. Deploy multiple physical security control points
B. Place each customers VLANs separate virtual router
C. Isolate each customer by using different physical hard//are
D. Deploy a single logical security control point.
Answer: D
5.What are two characteristics of an overlay network design? (Choose two.)
A. The overlay network contains per-tenant state
B. The physical network uses tunnels to transfer traffic
C. The physical network contains per-tenant state.
D. The overlay network uses tunnels to transfer traffic.
Answer: A