Fireware Essentials real exam questions are prepared by top certified IT professionals, which collected all the related Fireware Essentials exam questions. The Fireware Essentials exam tests your knowledge of how to configure, manage, and monitor a WatchGuard Firebox. This Fireware Essentials exam is appropriate for network administrators who have experience configuring and managing Firebox devices that run Fireware v12.2.1.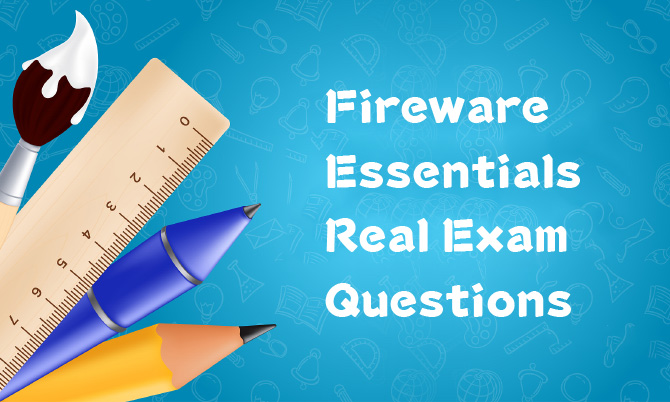 Fireware Essentials Exam Description
Number of Questions: 60 multiple coice (select one option), multiple selection (select more than one option), true/false, and matching questions
Time Limit: two hours
Passing score: 75%
Test environment: This is a proctored exam, with two location testing options.
Kryterion testing center
Online, with virtual proctoring through an approved webcam
Fireware Essentials Exam Key Concepts
Fireware Knowledge
Firebox activation and initial setup
Network configuration
Policy and proxy configuration
Subscription services configuration
User authentication
Device monitoring, logging, and reporting
Branch office and mobile VPN configuration
General IT Knowledge
IPv4 networking concepts (DNS, TCP/IP, DHCP, NAT, static routing)
General understanding of firewalls
Study Fireware Essentials Real Exam Questions
All the new cracked Fireware Essentials real exam questions can help you test all the above exam key concepts. Share some Fireware Essentials real exam questions and answers below.
1.If you disable the Outgoing policy, which policies must you add to allow trusted users to connect to commonly used websites? (Select three.)
A. HTTP port 80
B. NAT policy
C. FTP port 21
D. HTTPS port 443
E. DNS port 53
Answer: A,C,D
2.The policies in a default Firebox configuration do not allow outgoing traffic from optional interfaces.
A. True
B. False
Answer: B
3.Which of these options are private IPv4 addresses you can assign to a trusted interface, as described in RFC 1918, Address Allocation for Private Internets? (Select three.)
A. 192.168.50.1/24
B. 10.50.1.1/16
C. 198.51.100.1/24
D. 172.16.0.1/16
E. 192.0.2.1/24
Answer: A,B,D
4.In the default Firebox configuration file, which policies control management access to the device? (Select two.)
A. WatchGuard
B. FTP
C. Ping
D. WatchGuard Web UI
E. Outgoing
Answer: A,D
5.You can configure your Firebox to send log messages to how many WatchGuard Log Servers at the same time? (Select one.)
A. One
B. Two
C. As many as you have configured on your network.
Answer: C