NSE6_FML-6.0 exam will be retired on October 31, 2020, and the new replacement test is NSE6_FML-6.2. If you decide to choose NSE6_FML-6.0 exam to pass and earn NSE 6 certification, please do the test before the retired date. We provide the latest real exam questions for Fortinet NSE6_FML-6.0 exam, which are the best preparation material for you to prepare the test. I collected some useful Fortinet NSE6_FML-6.0 exam information for you to pass.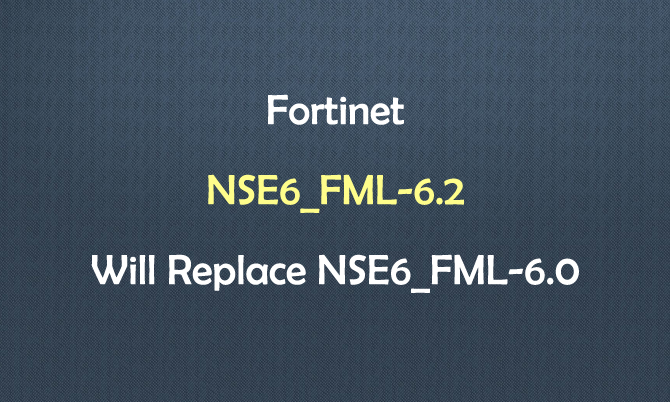 Fortinet NSE6_FML-6.0 Exam
Read the following Fortinet NSE6_FML-6.0 exam information to learn the test.
Number of questions: 30
Time allowed to complete: 60 minutes
Language: English and Japanese
Product version: FortiMail 6.0
Fortinet NSE 6 Certification
Fortinet NSE 6 certification is valid for two years from the date of the completion. To earn Fortinet NSE 6 certification, you need to pass a minimum of any four Fortinet NSE 6 certification exams: Fortinet NSE 6-FortiADC, Fortinet NSE 6-FortiAuthenticator, Fortinet NSE 6-FortiDDoS, Fortinet NSE 6-FortiMail, Fortinet NSE 6-FortiWeb, Fortinet NSE 6-FortiNAC, Fortinet NSE 6-FortiVoice, Fortinet NSE 6-FortiWLC and Fortinet NSE 6-Integrated and Cloud Wireless.
NSE6_FML-6.0 Fortinet Real Exam Questions
Study the latest Fortinet NSE6_FML-6.0 real exam questions to prepare and pass the test easily. There are 30 Q&As in Fortinet NSE 6-FortiMail 6.0 NSE6_FML-6.0 exam questions. Share some Fortinet certification NSE6_FML-6.0 real exam questions and answers below.
1.A FortiMail administrator is investigating a sudden increase in DSNs being delivered to the protected domain for undeliverable email messages. After searching the logs, the administrator identifies that the DSNs were not generated as a result of any outbound email sent from the protected domain. Which FortiMail antispam technique can the administrator use to prevent this scenario? (Choose one.)
A. Bounce address tag validation
B. Spam outbreak protection
C. Spoofed header detection
D. FortiGuard IP Reputation
Answer: B
2.A FortiMail is configured with the protected domain "example.com". For this FortiMail, which of the following envelope addresses are considered incoming? (Choose two.)
Answer: B, C
3.Which of the following statements regarding SMTPS and SMTP over TLS are true? (Choose three.)
A. In an SMTPS session, the identities of both sender and receiver are encrypted
B. SMTPS connections are initiated on port 465
C. SMTP over TLS connections are entirely encrypted and initiated on port 465
D. The STARTTLS command is used to initiate SMTP over TLS
E. SMTPS encrypts the body of the email message, where the most sensitive content exists
Answer: A,B,D
4.Which of the following antispam techniques queries FortiGuard for rating information? (Choose two.)
A. URI filter
B. IP reputation
C. SURBL
D. DNSBL
Answer: AB
5.Which firmware upgrade method for an active-passive HA cluster ensures service outage is minimal and there are no unnecessary failovers?
A. Upgrade the active unit, which will upgrade the standby unit automatically
B. Upgrade both units at the same time
C. Upgrade the standby unit, and then upgrade the active unit
D. Break the cluster, upgrade the units independently, and then form the cluster again as quickly as possible
Answer: C