Huawei HCIE-Intelligent Computing certification requires you to pass H13-231 written exam. We just cracked the latest HCIE-Intelligent Computing V1.0 H13-231 real exam questions, which can guarantee you pass Huawei certification H13-231 exam. Passing HCIE-Intelligent Computing V1.0 certification can indicate that you have insights into intelligent computing ecosystem and knowledge about key technologies and applications and are able to perform the solution architecture design, deployment and system optimization of typical scenarios in intelligent computing field.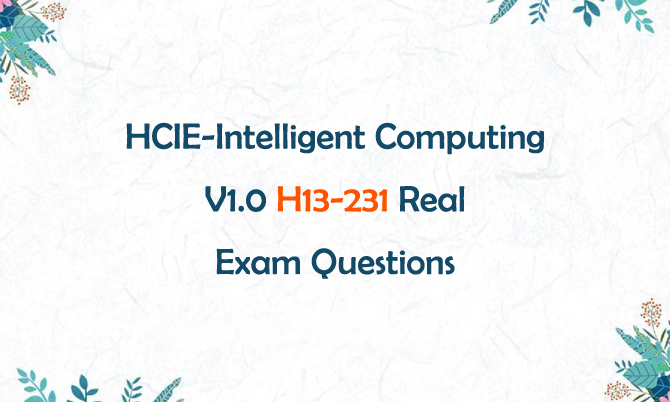 HCIE-Intelligent Computing H13-231 Exam
Huawei H13-231 exam is for people who want to become intelligent computing experts and obtain HCIE-Intelligent Computing certification.
Exam Type: Written examination
Exam Format: Single Answer, Multiple Answer, True-false Question
Time: 90min
Passing Score/Total Score: 600/1000
Exam Cost: 300USD
Language: Chinese, English
Huawei Certification H13-231 Exam Knowledge Content
HCIE-Intelligent Computing V1.0 H13-231 exam knowledge content covers the following sections.
1.Insight into computing industry ecosystem 5%
2.Key technologies and applications 25%
3.Intelligent computing solution design and practice 60%
4.Intelligent computing system optimization 10%
Share Huawei H13-231 Real Exam Questions
H13-231 HCIE-Intelligent Computing V1.0 real exam questions contain 330 Q&As, which are the best material for you to study the above H13-231 exam knowledge content. Share some Huawei HCIE-Intelligent Computing H13-231 real exam questions and answers below.
1.EulerOS is an operating system developed based on a stable system kernel. It has high security features. Which of the following are EulerOS security reinforcement methods? (Multiple choice)
A. Provide system operation authentication mechanism
B. Provide OpenSCAP/TPM-tools security
C. Reinforce corresponding security through SEK
D. Adopt the industry's mainstream SElinux security framework and provide security configuration strategies
Answer: ABCD
2.In order to view different application scenarios, the server has a variety of deployment architectures, among which the user interface is implemented through the www browser, and very few things are implemented in the front end (Browser). But the main thing logic is implemented on the server side. What is the architecture that forms the so-called 3-tier structure?
A. C/S architecture
B. B/S architecture
C. Internet architecture
D. Stand-alone architecture
Answer: B
3.Huawei IN500 intelligently supports protocol offloading, which improves network performance. Which of the following is the protocol supported by IN500 for uninstallation?
A. RoCEv1
B. HTTP
C. RoCEv2
D. FTP
Answer: C
4.Kunpeng platform compiles the application program method and the compiling method on the X86 platform are the same, which of the following tools can be used to compile? (Multiple choice)
A. autoconfig
B. makefile
C. make
D. cmake
Answer: ACD
5.TaiShan server uses Huawei Kunpeng processor to realize the integration of "calculation, storage, transmission, management, and intelligence". Which of the following chip technology is applied on the "transmission"?
A. Smart network card chip
B. SSD controller chip
C. rising Ascend 310 chips
D. Intelligent management chip
Answer: A