Are you working in IBM industry with IBM Cloud Management and Platform? If so, IBM Tivoli Netcool/OMNIbus V8.1 Implementation C9560-519 exam is a good one for you to choose. IBM certification C9560-519 exam is a required test for IBM Certified Deployment Professional-Tivoli Netcool/OMNIbus V8.1 certification. So in the following article, I will show you how to pass IBM certification C9560-519 exam easily.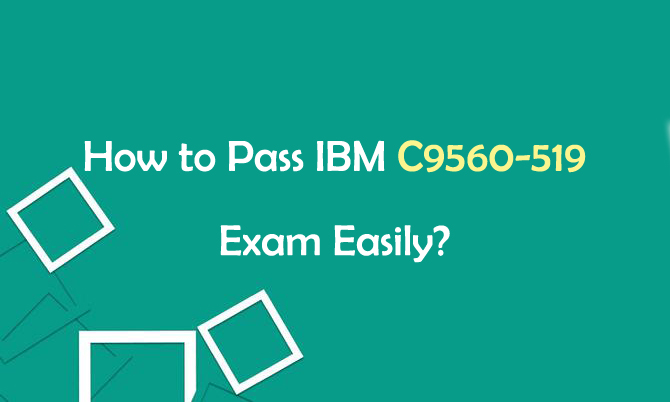 Read IBM C9560-519 Exam Information
To take IBM C9560-519 exam, you are responsible for the planning, installing, configuring, administering, performance tuning, problem determination and documenting of solutions for IBM Tivoli Netcool/OMNIbus V8.1.
Number of questions: 70
Number of questions to pass: 57
Time allowed: 90 mins
Available Languages: English, Japanese
Master C9560-519 Exam Topics
IBM Tivoli Netcool/OMNIbus V8.1 Implementation C9560-519 exam topics cover the following contents.
Section 1: Planning 20%
Section 2: Installation 20%
Section 3: Configuration 20%
Section 4: Administration 20%
Section 5: Performance Tuning and Problem Determination 20%
Study IBM C9560-519 Real Exam Questions
All the IBM C9560-519 real exam questions can help you test all the above topics. Share some IBM Tivoli Netcool/OMNIbus V8.1 Implementation C9560-519 real exam questions and answers below.
1.Which property can be set to configure the TCP/IP ports used for ObjectServer gateway communication between the ObjectServers?
A. FailoverGateway.
B. UseDynamicPorts
C. Iduc.ListeningPort
D. Gate.Jdbc.Port
Answer: C
2.A new employee has the task of assigning roles to the groups who will be using the Web GUI. Which role does the employee need to operate his duties?
A. configurator
B. iscadmins
C. ncw__admin
D. operator
Answer: B
3.The ObjectServer trigger statistics log file shows the new_row trigger is taking excessive amounts of ObjectServer granularity time. In addition, the ObjectServer profiler report log file shows one particular SNMP probe is taking the majority of the profiler report granularity period. What should be considered to improve ObjectServer performance?
A. reduce the number of events in the alerts.status table
B. ensure the clean_details_table and clean_journal_table triggers are enabled
C. modify the new_row trigger from a database trigger to a temporal trigger
D. configure the SNMP probe to protect against event floods
Answer: D
4.Which two properties can be used to enable Store and Forward functionality in ObjectServer gateway configurations?
A. Gate.Destination.SAF
B. Gate.Writer.SAF
C. Gate.Destination.SAFFile
D. Gate.Writer.SAFFile
E. Gate.Writer.Store
Answer: A,C
5.How can processes running under Process Control be configured to run as different user IDs on a UNIX platform?
A. by adding user [userid] on the command line for the process
B. by setting the paremeter, User = [usemame], in the parameter section for the process
C. by adding, run as [userid] on the command line for the process
D. by starting the Process Agent in single user mode
Answer: A