Juniper JN0-361 exam has been retired, and the new replacement test is JN0-362 Service Provider Routing and Switching-Specialist (JNCIS-SP). We have cracked the latest Juniper JNCIS-SP real exam questions, which are the latest version in the whole market. With all of JN0-362 real exam questions, you can pass Juniper JNCIS-SP JN0-362 exam easily and earn the related JNCIS-SP certification.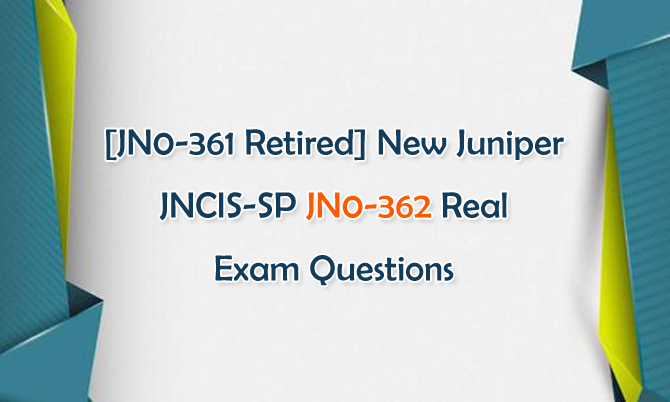 Juniper JN0-362 Exam
JNCIS-CP certification is designed for experienced networking professionals with beginner to intermediate knowledge of routing and switching implementations in Junos, this written exam JN0-362 verifies your basic understanding of routing and switching technologies and related platform configuration and troubleshooting skills.
Exam Format: Written exam
Test Center: Administered by Pearson VUE
Exam length: 90 minutes
Exam type: 65 multiple-choice questions
Result: Pass/fail status is available immediately
JNCIS-SP JN0-362 Exam Topics
Protocol-Independent Routing
Open Shortest Path First (OSPF)
Intermediate System to Intermediate System (IS-IS)
Border Gateway Protocol (BGP)
Layer 2 Bridging or VLANs
Spanning-Tree Protocols
Multiprotocol Label Switching (MPLS)
IPv6
Tunnels
High Availability
Study Juniper JN0-362 Real Exam Questions
The new cracked Juniper JN0-362 real exam questions can help you test all the above exam topics. Share some Service Provider Routing and Switching-Specialist (JNCIS-SP) JN0-362 real exam questions and answers below.
1.Which two high availability features preserve interface and kernel information during reconvergence? (Choose two.)
A. nonstop active routing (NSR)
B. graceful Routing Engine switchover (GRES)
C. graceful restart (GR)
D. nonstop bridging (NSB)
Answer: A,B
2.Which MPLS feature works with Constrained Shortest Path First (CSPF) to protect against the primary and secondary paths using the same link?
A. fate-sharing
B. policy control over LSP selection
C. explicit null configuration
D. LSP metrics
Answer: A