Juniper JN0-211 exam has been retired on February 13, 2022, and the new replacement test is Cloud, Associate (JNCIA-Cloud) JN0-212. JNCIA-Cloud, the associate-level certification in this track, is designed for networking professionals with introductory-level knowledge of Juniper Networks cloud-based networking architectures, theory, and best practices. We have cracked the latest Juniper certification JN0-212 real exam questions, which are valuable in your preparations.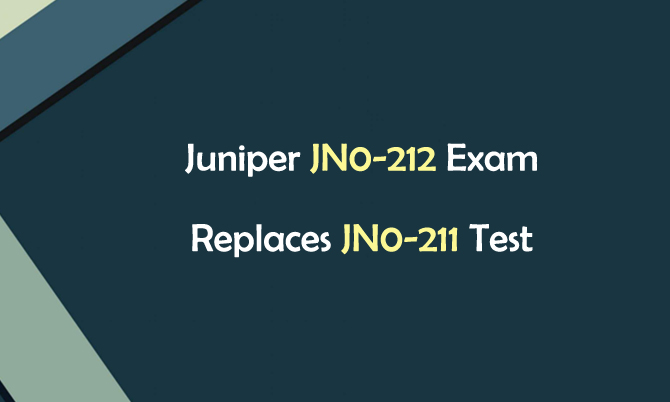 Juniper JN0-212 Exam
Juniper JNCIA-Cloud JN0-212 written exam verifies your understanding of cloud-based networking principles and technologies.
Number of questions: 65 multiple-choice questions
Duration: 90 minutes
Language: English
Delivered by: Pearson VUE testing center
Pass/fail status is available immediately after taking the JN0-212 exam.
JNCIA-Cloud JN0-212 Exam Objectives
Juniper JNCIA-Cloud JN0-212 exam objectives cover the following details.
Cloud Fundamentals
Cloud Infrastructure: Network Functions Virtualization (NFV) and SDN
Network Virtualization
Cloud Virtualization
Cloud Orchestration with OpenStack
Cloud Orchestration with Kubernetes
Contrail Networking
Share Juniper JN0-212 Real Exam Questions
Juniper JN0-212 real exam questions are the best material for you to study the above Cloud, Associate (JNCIA-Cloud) objectives. Share some Juniper certification JN0-212 real exam questions and answers below.
1.Which statement is true about NFV containers?
A. NFV containers require an underlying hypervisor for deployment
B. NFV containers require more memory and storage resources to deploy
C. NFV containers take longer to instantiate than virtual machines
D. NFV containers usually provide fewer functions than VM-based NFs
Answer: D
2.What are two technologies that a vMX's control plane uses to communicate with the forwarding plane on the same servers?(Choose two.)
A. OVSDB
B. Virtio
C. SR-IOV
D. 802.1Q
Answer: B,C
3.Which statement is correct about SDN?
A. The SDN controller must provide a manual method for configuration
B. The configuration and management of an SDN solution should be distributed to the edge of the network
C. SDN simplifies the network by combining the control and forwarding planes into a single controller
D. The SDN controller has a centralized view of the network
Answer: D
4.Which cloud architecture provides developers a framework on which to develop and customize applications?
A. FWaaS
B. DBaaS
C. PaaS
D. IaaS
Answer: C
5.You are using the NorthStar Controller to manage your WAN. You are required to remove a node from the network for maintenance purposes. You want to compute and provision alternate forwarding paths so that traffic is re-touted around the node being taken offline for maintenance. Which NorthStar Controller feature would be used in this scenario?
A. shared risk link groups
B. node diversity
C. path diversity
D. maintenance mode
Answer: C