Confident to pass the Professional Agile Leadership (PAL-I) PAL-I exam at first attempt? Download Testpassport
latest PAL-I: Professional Agile Leadership (PAL-I) exam questions
. Testpassport has collected the most current questions and answers for PAL-I designed to cover all needed in the Professional Agile Leadership exam. The Testpassport team strongly recommends that you use the Professional Agile Leadership (PAL-I) PAL-I exam questions when you take the exam in a few weeks to allow enough time to practice. You can make full use of mobile phones, pads and other electronic devices to learn Professional Agile Leadership (PAL-I) PAL-I questions and answers easily and efficiently. You can also print out the PAL-I pdf to study.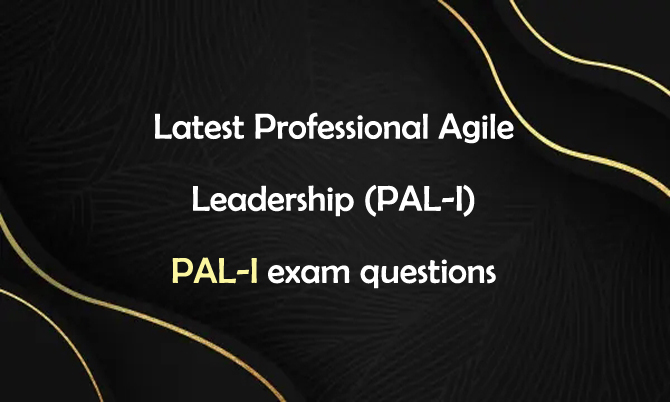 Professional Agile Leadership (PAL I) Certification
The Professional Agile Leadership (PAL I) certification validates that you are a leader who understands the value Agile can bring to a business and how to actively practice Agile. This certification demonstrates why leadership support of agile teams is essential to achieving organizational agility and what leaders can do to support their teams to help them achieve higher performance.
Exam Details
$200 USD per attempt
Passing score: 85%
Time limit: 60 minutes
Number of Questions: 36
Format: Multiple Choice, Multiple Answer, True/False
Exam Areas
Understanding and Applying the Scrum Framework
Developing People and Teams
Managing Products with Agility
Developing and Delivering Products Professionally
Evolving the Agile Organization
Testpassport provide demo Professional Agile Leadership - Evidence Based Management PAL-I exam questions on the following for you to practice and test.
1. You are the Agile Coach of an Agile Team, what would be your highest expectation of the team?
A. Team members will come to you as soon as they encounter a problem.
B. Each team member solves the problems independently.
C. Team members report all their problems in the daily meeting.
D. The team solves most of the problems on its own.
Answer: D
2. Which of the following statement is true about Agile?
A. A good Agile Leader always gets all the work done on time.
B. If an Agile Project is not predictable, it's because it was not planned well.
C. Agile Projects have a certain level of unpredictability. Agile Teams accept that unexpected things can
occur, they learn and adapt.
D. Agile Leaders understand the value of the Product more than anyone else.
Answer: C
3. You are a Scrum Master and you assess that recent market changes make the product your team is
working on is no longer viable. What should you do?
A. Change the Product Owner.
B. Cancel the project.
C. Share the information with the Product Owner and ask for their opinion on viability.
D. Work with the team member to assign them to new projects.
E. Tell the Product Owner how to re-prioritize backlog to fit market trends.
Answer: C
4. How does a Scrum Team produce value?
A. By providing value reports that can be compared to the value of other Scrum Teams.
B. By finishing all the items of the Sprint Backlog at the end of the Sprint.
C. By consistently achieving the Sprint Goals and delivering increments at the end of each sprint.
D. By delivering increments with low technical debt.
Answer: C
5. What is the purpose of the Daily Scrum? Select two answers
A. Inspect progress toward the Sprint Goal
B. Adapt the Sprint Backlog as necessary
C. Adapt the Product Backlog
D. Report progress and status
E. Receive directions from the Product Owner
F. Inspect the increment
Answer: A,B
6. What is included in Product Backlog management? Select two answers
A. Developing and explicitly communicating the Product Goal
B. Creating and clearly communicating Product Backlog items
C. Writing the acceptance criteria
D. Creating the Sprint Backlog
E. Writing User Stories
F. Documentation
Answer: A,B