Testpassport Professional Scrum Product Owner II PSPO-II exam questions have verified answers, which are done by our Scrum certified experts. With Testpassport Scrum PSPO-II exam questions with verified answers, you can get the desired score for
Professional Scrum Product Owner II PSPO-II exam
well. Testpassport PSPO-II real exam questions with verified answers aim at helping the candidates to strengthen their knowledge of Scrum PSPO-II exam.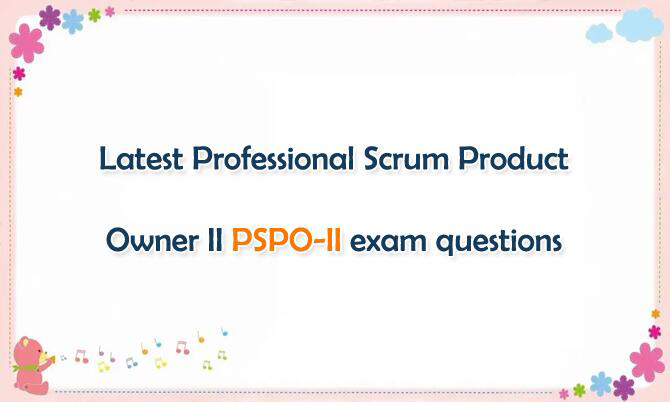 Professional Scrum Product Owner II (PSPO II) certification
The Professional Scrum Product Owner II (PSPO II) certification validates your understanding of advanced Professional Scrum Product Ownership, the Scrum framework and delivering valuable products. When taking PSPO II, you should have experience as a Product Owner and a strong understanding of the fundamentals of Scrum. PSPO II tests your knowledge of Scrum, Product Ownership, delivering value and how you would handle real-world situations.
Exam Details
$250 USD per attempt
Passing score: 85%
Time limit: 60 minutes
Number of Questions: 40 (partial credit provided on some questions)
Format: Multiple Choice, Multiple Answer
Exam Areas
Understanding and Applying the Scrum Framework:
Empiricism, Scrum Values, Scrum Team, Events, Artifacts, Scaling
Managing Products with Agility:
Forecasting & Release Planning, Product Vision, Product Value, Product Backlog Management, Business Strategy, Stakeholders & Customers
Evolving the Agile Organization:
Organizational Design & Culture, Portfolio Planning, Evidence Based Management
Scrum PSPO-II exam questions are collected by Testpassport professional Scrum certified experts, which can guarantee the accuracy of PSPO-II real exam questions. Share Professional Scrum Product Owner II (PSPO II) Demo Questions
1. You have 20 teams working on a single release that will deliver 30 different features to your
customers. It is estimated that this release will be completely finished in 4-5 months.
How can you improve your Time to Market? (choose the best answer)
A. As soon as a feature is ready, deliver it in its own smaller release.
B. Automate parts of the development and testing process to reduce waste.
C. Add more developers to increase the overall development capacity.
Answer: A
2. What best illustrates a GO product roadmap? (choose the best two answers)
A. It provides an overview of all user stories ordered by a sequence of releases.
B. It focuses on what is being done now, what will be done next and what will be done later.
C. It focuses on the goals rather than the features
D. It supports value steering
Answer: C,D
3. Which two Key Value Areas are most affected by the daily frequency a team is switching tasks or is
interrupted? (choose the best two answers)
A. All of the above.
B. Time to Market.
C. Unrealized Value.
D. Ability to Innovate.
E. Current Value.
Answer: B,D
4. What questions might the Developers use at the Daily Scrum? (choose the best three answers)
A. How many hours did I spend on the project yesterday?
B. What impediments are in my way or in the way of the team?
C. Why were you late?
D. How many meetings did you have yesterday?
E. What work am I going to do today to help the team achieve its goal?
F. What work did I do yesterday to help the team achieve its goal?
Answer: B,E,F
5. Who participates at the Sprint Review? (choose all that apply)
A. The Key Stakeholders
B. The Product Owner
C. The Developers
D. The Organization CEO
E. The Scrum Master
Answer: A,B,C,D,E
6. Which of the following statements is true about the Product Vision? (choose the best answer)
A. It is the shared responsibility of the Scrum Team to develop and evolve
B. None of the above
C. All of the above.
D. It evolves as the Scrum Team learns more about customers and their needs.
E. It must be completely free from discussions about strategic technology choices.
Answer: D