PCCSE certification is a hot one of Palo Alto Networks certification. The Prisma Certified Cloud Security Engineer PCCSE certification validates the knowledge, skills and abilities required to onboard, deploy and administer all aspects of Prisma Cloud. We have cracked the latest Palo Alto Networks PCCSE real exam questions, which are the best material for you to study the test. PCCSE exam is the one for people who are interested in demonstrating knowledge, skill and abilities with Prisma Cloud including cloud security, customer success, DevOps, cloud support, professional services and Appsec engineers, cybersecurity architects, and team leads.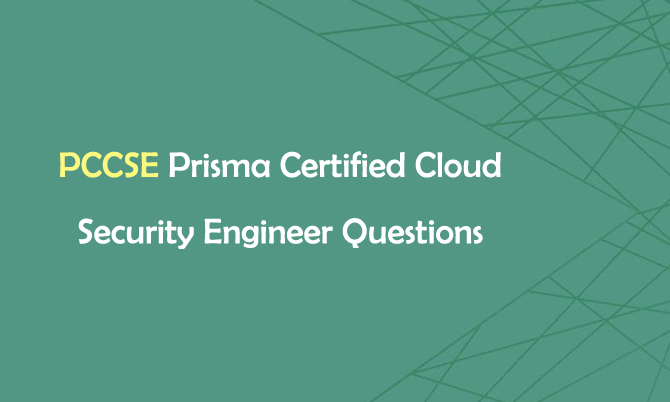 Palo Alto Networks PCCSE Exam
Total Seat Time: 80 to 90 minutes
Time for Exam Items: 70 to 80 minutes
Time for reviewing Palo Alto Networks Exam Security: 5 minutes and for Survey 5 minutes
Number of items: 75 to 85
Format: Multiple choice, scenarios with graphics, and matching
Language: English
Prisma Certified Cloud Security Engineer PCCSE Topics
Prisma Certified Cloud Security Engineer PCCSE exam topics cover the following sections.
Install and Upgrade 18%
Visibility, Security and Compliance 20%
Cloud Workload Protection Platform 22%
Data Loss Prevention 9%
Web Application and API Security 5%
Dev SecOps Security (Shift-Left) 11%
Prisma Cloud Administration (inc. Compute) 15%
Study Palo Alto Networks PCCSE Real Exam Questions
Palo Alto Networks PCCSE real exam questions can help you test all the above topics. With all of our Palo Alto Networks PCCSE real exam questions, you can study and prepare the test well. Share some Prisma Certified Cloud Security Engineer PCCSE real exam questions and answers below.
1.An administrator has deployed Console into a Kubernetes cluster running in AWS. The administrator also has configured a load balancer in TCP passthrough mode to listen on the same ports as the default Prisma Compute Console configuration. In the build pipeline, the administrator wants twistcli to talk to Console over HTTPS. Which port will twistcli need to use to access the Prisma Compute APIs?
A. 8081
B. 443
C. 8084
D. 8083
Answer: C
2.Which method should be used to authenticate to Prisma Cloud Enterprise programmatically?
A. SAML
B. access key
C. basic authentication
D. single sign-on
Answer: B
3.A customer is interested in PCI requirements and needs to ensure that no privilege containers can start in the environment. Which action needs to be set for "do not use privileged containers?
A. Alert
B. Prevent
C. Fail
D. Block
Answer: A
4.A customer is deploying Defenders to a Fargate environment It wants to understand the vulnerabilities in the images it is deploying. How should the customer automate vulnerability scanning for images deployed to Fargate?
A. Embed a Fargate Defender to automatically scan for vulnerabilities
B. Use Cloud Compliance to identify misconfigured AWS accounts
C. Set up a vulnerability scanner on the registry
D. Designate a Fargate Defender to serve a dedicated image scanner
Answer: A