Want to pass Splunk Core Certified Power User SPLK-1002 exam easily? we have cracked the latest SPLK-1002 real exam questions, which will be the best preparation material for you to pass the test. We all know that SPLK-1002 exam is a related test for Splunk certification. If you want to get a good salary in Splunk industry, you can choose to take SPLK-1002 exam to get certified. I just collected some related SPLK-1002 exam information, topics and real exam questions for you to prepare the test.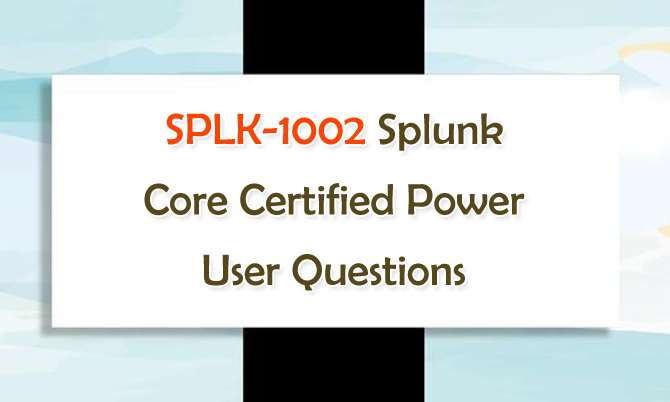 Splunk SPLK-1002 Exam Information
Splunk certification SPLK-1002 exam evaluates your knowledge and skills of field aliases and calculated fields, creating tags and event types, using macros, creating workflow actions and data
models, and normalizing data with the CIM.
Number of questions: 65
Duration: 57 minutes, Candidates can expect an additional 3 minutes to review the exam agreement, for a total seat time of 60 minutes.
Exam Cost: $125
Splunk SPLK-1002 Exam Topics
The following topics are included in Splunk SPLK-1002 exam.
1.0 Using Transforming Commands for Visualizations 5%
2.0 Filtering and Formatting Results 10%
3.0 Correlating Events 15%
4.0 Creating and Managing Fields 10%
5.0 Creating Field Aliases and Calculated Fields 10%
6.0 Creating Tags and Event Types 10%
7.0 Creating and Using Macros 10%
8.0 Creating and Using Workflow Actions 10%
9.0 Creating Data Models 10%
10.0 Using the Common Information Model (CIM) Add-On 10%
Study Splunk SPLK-1002 Real Exam Questions
Splunk SPLK-1002 real exam questions are the best and valid material, which can help you test all the above exam topics. Share some Splunk Core Certified Power User SPLK-1002 real exam questions below.
1.What is the correct syntax to search for a tag associated with a value on a specific field?
A. tag=<field>
B. tag=<field>(<tagname>)
C. tag=<field>::<tagname>
D. tag::<field>=<tagname>
Answer: D
2.In most large Splunk environments, what is the most efficient command that can be used to group events by fields?
A. join
B. stats
C. streamstats
D. transaction
Answer: B
3.Which workflow uses field values to perform a secondary search?
A. POST
B. Action
C. Search
D. Sub-search
Answer: C
4.Which of the following statements describes field aliases?
A. Field alias names replace the original field name.
B. Field aliases can be used in lookup file definitions.
C. Field aliases only normalize data across sources and sourcetypes.
D. Field alias names are not case sensitive when used as part of a search.
Answer: D
5.Which statement is true?
A. Pivot is used for creating datasets.
B. Data models are randomly structured datasets.
C. Pivot is used for creating reports and dashboards.
D. In most cases, each Splunk user will create their own data model.
Answer: C