Salesforce User Experience Designer questions are available, which are useful in your preparation. To take User Experience Designer exam, you should have at least 6 months of hands-on experience as a UX designer, engineer, administrator, stakeholder, facilitator, or researcher. Besides, you should also have 3 to 6 months experience utilizing UX design concepts on the Salesforce Platform. I also collected all the related Salesforce User Experience Designer information for you to prepare for the test.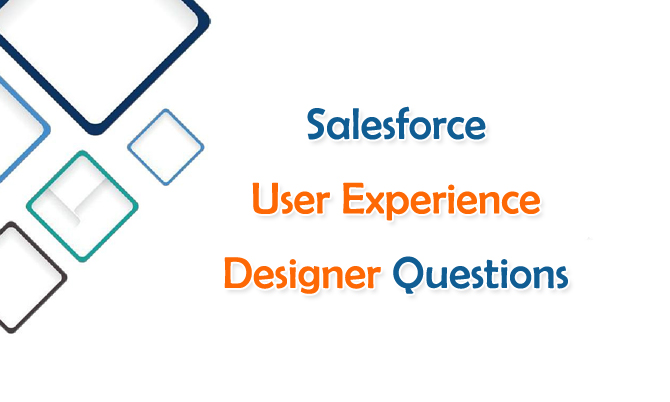 Salesfirce User Experience Designer Exam
The Salesforce Certified User Experience (UX) Designer exam is for candidates who are aspiring or experienced designers wanting to build and design solutions on the Salesforce Platform.
Content: 60 multiple-choice/multiple-select questions
Time allotted to complete the exam: 105 minutes
Passing score: 65%
Registration fee: USD 200
Retake fee: USD 100
User Experience Designer Saleforce Exam Outline
Salesforce User Experience Designer exam outline cover the following details.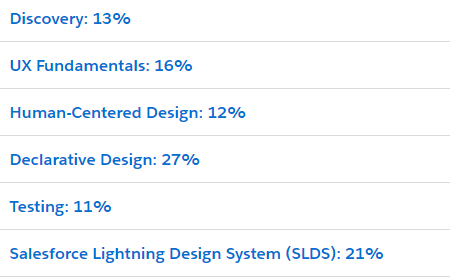 Share Salesforce User Experience Designer Questions
Salesforce User Experience Designer real exam questions can help you test all the above outline. Share some Salesforce Certified User Experience Designer real exam questions and answers below.
1.Cloud Kicks needs functional components that will be used on many pages. The components need to be consistent with the look and feel of Lightning Experience.What does the Salesforce Lightning Design System (SLDS) provide that will ensure consistency?
A. JavaScript Frameworks
B. Component Blueprints
C. Experience Lightning Components
D. Custom Lightning components
Answer: C
2.The UX Designer at Cloud Kicks is considering using a custom Lightning component to fulfill a specific business requirement.Which two best practices should be considered?Choose 2 answers
A. Prioritize Aura markup even if there is a Lightning Web Component (LWC) available.
B. Create HTML markup and link the SLDS stylesheet via static Resource.
C. Exhaust the list of available base Lightning component in the component Library.
D. Find the dosest Salesforce Lightning Design System (SLDS) Blueprint to help inform the custom Lightning component.
Answer: BC
3.Cloud Kicks wants its Discovery team to help explain the relationships between process steps and business teams.Which types of process map should they produce?
A. Value Stream Map
B. Cross-Functional Flowchart
C. SIPOC Map
D. High-Level Process Map
Answer: B
4.A company provides a way for customers to shop for homes and contact real estate agents online. The company's brokers use some of the Salesforce standard functionality to track home buyers. Which three standard Salesforce objects should be used in this experience?Choose 3 answers
A. Address
B. Contact
C. Property
D. Lead
E. Opportunity
Answer: BCD
5.Cloud kicks is planning its einstein Bot implementation and has identified common issues the Bot can resolve. CK has determined that extensive technical planning is needed for bot effectiveness and customer satisfaction
A. user interface planning
B. Training and support for planning
C. deboarding planning
D. voice and tone planning
Answer: A