CompTIA A+ is the basic one among CompTIA certifications. 200-901 exam is one of two required exams for CompTIA A+ certification. CompTIA A+ 220-901 covers PC hardware and peripherals, mobile device hardware, networking and troubleshooting hardware and network connectivity issues. Passing CompTIA A+ 200-901 exam is not difficult now. To pass CompTIA 220-901 exam easily, our new updated CompTIA A+ 220-901 exam questions will be helpful in your preparation.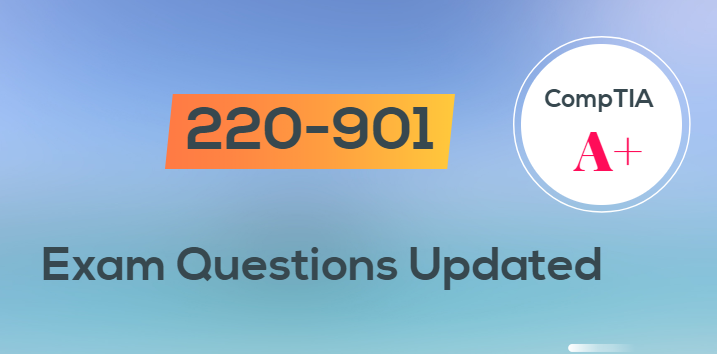 Real CompTIA A+ 220-901 exam basic information and exam topics are also an important part in your preparation. I collected all 220-901 related information from CompTIA official website. Share them below.
220-901 Exam Basic Information
220-901 Real Exam Topics

Number of questions: Maximum of 90

Types of questions: Multiple choice and performance-based

Length of test: 90 minutes

Recommended experience Six to 12 months hands-on experience in the lab or field

Passing score: 675 (on a scale of 100–900)

1.0 Hardware 34%

2.0 Networking 21%

3.0 Mobile Devices 17%

4.0 Hardware & Network Troubleshooting 28%
The above CompTIA A+ 220-901 exam information can help you have a good understand of the test. Our new updated CompTIA A+ 220-901 exam questions have 499 Q&As, which cover all the above CompTIA A+220-901 real exam topics. With our 220-901 exam questions, you can test your skills.