Veeam Certified Engineer is one of pop certifications of Veeam. To get Veeam certified, you will have a deep understanding of Veeam Availability Suite, the critical functions required by an organization to actively protect their data and the ability to grow and adapt with an organization's evolving data protection needs. We provide the helpful Veeam Certified Engineer VMCE2020 real exam questions, which are useful for you to prepare for VMCE2020 exam.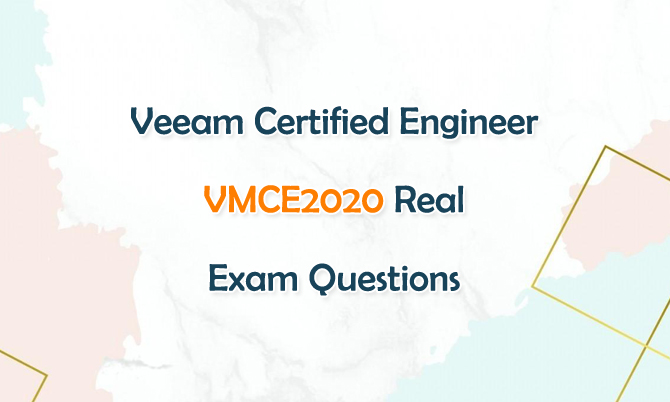 Veeam Certified Engineer VMCE2020 Exam
Veeam Certified Engineer VMCE2020 exam information is available below.
Number of questions: 50
Duration: 60 minutes, a 30-minute time extension will be available when the exam is delivered in a language different than the local language.
Exam Cost: The price varies by country.
Test Center: Pearson VUE
Passing Score: 70% or more
VMCE2020 Veeam Exam Skills
VMCE2020 Veeam Certified Engineer exam skills cover the following details.
Identify and resolve issues more accurately
Get more functionality out of Veeam solutions
Distinguish yourself from your peers
Share Veeam VMCE2020 Real Exam Questions
Veeam certification VMCE2020 real exam questions can help you study the above skills. Share some Veeam Certified Engineer VMCE2020 real exam questions and answers below.
1.When planning to back up files and folders from shared sources, that is the correct method to connect to the file share from the Veeam backup server?
A. Add the file share into the store infrastructure
B. Add the file share into the physical infrastructure
C. Add the file share into the inventory
D. Add the file share into the managed servers
Answer: D
2.A backup administrator is planning to install Veeam ONE. Which data collection mode collects the most data per VM?
A. For vCenter data only
B. Optimized for advanced scalability deployment
C. For backup data only
D. Optimized for typical deployment
Answer: B
3.What transport mode does the Linux backup proxy support?
A. Automatic
B. Network
C. Direct storage access
D. Virtual appliance
Answer: D
4.Veeam ONE has been installed in the typical data collection mode and historical data is the installation default. A customer is looking at performance charts in Veeam ONE Monitor. When troubleshooting a performance event from two days ago, what will they see?
A. Aggregated data every two hours
B. Data does not exist
C. Raw data every 20 seconds
D. Aggregated data every five minutes
Answer: A
5.Which of the following predefined tests can be performed during a SureBackup verification test on a backup file? (Choose three.)
A. Application test
B. Heartbeat test
C. Ping test
D. SAN check
E. Boot time
F. OS test
Answer: ABC